on the last habitable day
we are so in love the vultures eating in front of the Methodist sign down the street screaming REPENT stop to watch us go by, hands locked like a second date
I have a wife. I am at the end of this great line
of mothered children childless and loving it, dress swinging around my knees,
my wife's palm slick in my own because on this the last day of my life
it is late-summer, forever-summer, in the middle of January
we are talking about when to kill the animals,
because neither of them should be forced to make it on their own,
and when should I release myself from the hope of a better tomorrow
to fall into the flawed and final today, today without rain or food, without
tomorrow, but my wife is here and so are the vultures eating an emaciated possum,
so what's to say that we should not fall on our knees
on car-less asphalt and repent to whatever god we could muster, whatever terrifying entity
of devotion that we have ignored for two lifetimes, my wife
the most beautiful person on earth, how could I possibly leave her
behind.
---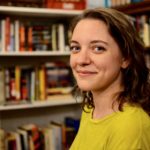 Emily Blair is a queer Appalachian poet and blue-collar scholar originally from southwestern Virginia. Her most recent work can be found in Hobart, Heavy Feather Review, and Barren Magazine, among others. She currently lives in North Carolina with her partner, their cat and dog, and at least thirty houseplants.