Coming to Grips
When I was a young woman,
before my father died, before
I watched my mother become old
I didn't know I'd see her
lose her words one day.
I didn't know that sitting with her
at the end of her life
would remind me of walking
an endless empty beach
at low tide.
Later, I learned that when
dementia cleans house,
underpants turn up in the freezer
cash in the towel closet. But that is
not how it went with my mother.
Instead she just took flight,
eyes suddenly empty as
a vacant house on a prairie.
One day she just stopped making
sense,turned in on herself.
She was mute.
Fully engaged in the work
of dying, left me
to wash her feet,
appointed me as witness.
---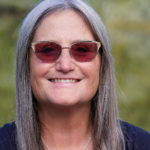 Judith Prest is a poet, photographer, mixed media artist, and creativity coach. Her poems have been published in literary journals and in seven anthologies. Her chapbook, After, was published by Finishing Line Press in May of 2019. She lives in Duanesburg, NY with her husband and three cats, also the home of her business, Spirit Wind Studio, LLC