Ode to My Ass
It's the first syllable
on my way
to assonance,
a form of assent,
amass. Not hourglass.
More direct than derrière.
Cruder than bum,
but not by much.
Encircling
a bowl of a hole,
it expands when I sit
A great epithet.
I came to know it
as a tushy touché
or was it torchière
Now, it's a flabby
bottom boat.
No one's making
a pass at my ass.
Never was world class.
But it holds me up,
keeps me seated.
Sometimes it tweets.
Though the ending
ain't sweet,
my ass still got sass.
---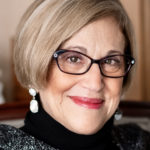 Leslie B. Neustadt is a retired attorney, poet, and collagist. Her book, Bearing Fruit: A Poetic Journey, was published in 2014. She has donated several thousand dollars to not-for-profits from the proceeds. Her work has been published in a wide variety of journals and anthologies. She is a member of the Board of Directors for the International Women's Writing Guild and is a member of the Hudson Valley Writers Guild. She is involved in several peer writing groups and enjoys the rich offerings of workshops online.