Bottom Boy Blue
Half-starved and hungry as fuck
I try my best to wait it out
There is a nut that beckons my body
Some mans pleasure in need of saving
My body has become a hero
A Jesus for the maimed and borrowed
The men they come holding heaviness
My body a sweet oasis for burdened scrotums
I carry them inside me
Mother to many distant summers
The eat don't feed itself a cured hunger
My body whimpers underneath the field of covers
He applies sticky based water
Enters a different lover
Get used to him, by him
We become one and together
We become alone as he feeds me open
And I eat him bone by bone.
---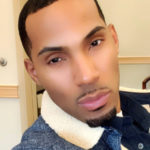 Luis Pabon is a poet and spoken word artist born and raised in Bronx, NY. He is the author of 6 books of poetry, most recently Boy Butter (2020), and one chapbook, Ricanstruction (2016) which explores his Black and Puerto Rican heritage. Luis currently resides in Albany, NY, and is working on his next full collection of poems entitled Earth's Bad Mouth, slated for a 2021 release.