Father In A Drawer
After father's funeral, after the food
the daughter opened the drawer
next to the bed. What is this:
an expired passport, a bag of
French coins, Air France playing
Cards, 4 corks from
Domaine Matrot Bourgagne,
3 photos of an unknown woman
on a beach, on a balcony, at a
sidewalk café, four Valentines
signed Sandrine, the name he
had suggested for her daughter.
---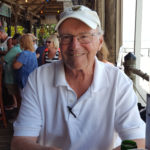 Robert Halleck lives in Del Mar, California. His work has appeared in The San Diego Poetry Annual, Remington Review, Hobart Review, St.Ann's Review, Chiron, North Dakota Quarterly Review and in his chapbook POEMS FROM THE BLUE HIGHWAYS. He is a member of San Diego's Not Dead Yet Poets.