Amuse-Bouche
After finally determining
the critical difference
between pudgy Basset hounds
and sinewy Burmese pythons,
he changed the name of his failing diner
to Amuse-Bouche,
totally revamped his menu,
and began serving vastly different lunches
to a more discerning clientele.
Some Things, Sometimes
Some things never stop.
Some things, stopped,
never get restarted. I'm
like some of those things.
Sometimes, started, I can't stop.
Sometimes people yell at me,
"Shut the hell up, willya?"
They don't know me.
Sometimes I just sit there,
silent, pretending to think.
Pretending. People think I'm
thinking. I don't think I am.
Some things just repeat
over and over and over,
continue repeating forever.
Some poems never end.
Voice Activated
I do
whatever she says
pick up my socks
take out the trash
get the Chinese take-out
do the dishes
mow the lawn
you get the idea
It used to bug me
until
she reminded me
I love her madly
---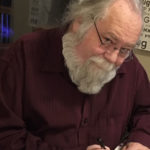 Ron. Lavalette is a very widely published writer living on the Canadian border in Vermont's Northeast Kingdom. His first chapbook, Fallen Away (Finishing Line Press), is now available at all standard outlets. His poetry and short prose have appeared extensively in journals, reviews, and anthologies ranging alphabetically from Able Muse and the Anthology of New England Poets through the World Haiku Review. A reasonable sample of his published work can be viewed at EGGS OVER TOKYO.