John Prine Never Wrote a Song About That
the moon grazing
in the sweet grass
out for blaze foley's soul
scott wannberg
writing his name
in the snow
a pair of crows
bone tired
of dreaming.
Flight Patterns
greg says starlings
are the white trash of birds
it was the woodpecker
that developed morse code.
---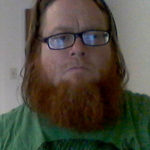 John Dorsey lived for several years in Toledo, Ohio. He is the author of several collections of poetry, including Teaching the Dead to Sing: The Outlaw's Prayer (Rose of Sharon Press, 2006), Sodomy is a City in New Jersey (American Mettle Books, 2010), Tombstone Factory (Epic Rites Press, 2013), Appalachian Frankenstein (GTK Press, 2015), Being the Fire (Tangerine Press, 2016) and Shoot the Messenger (Red Flag Press, 2017). He is the current Poet Laureate of Belle, MO. His work has been nominated for the Pushcart Prize. He may be reached at archerevans@yahoo.com.