Mom Tells me There's no Reason to Live
I have taken it all away—
her car, her house,
her roll-top desk.
She's making a call,
revising the will, dialing 911,
locking the doors.
It's all in my head.
She doesn't need help.
She's lived alone her whole life.
She's dying today
everyday.
This is the last time….
Nobody told her. I'm
imagining things. She's not
getting up. She has work to do!
And somebody stole her calendar.
She's searching their rooms,
standing in the parking lot at 3 a.m.
waiting for me to take her home.
---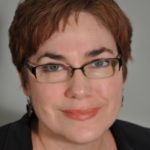 Melody Davis, a writer and art historian, is the author of three poetry collections, most recently,  a special edition artists' book, One Ground Beetle, with Harold Lohner (2017); and Holding the Curve (2013) from Broadstone Books.  Her work in the history of photography has been published widely.  In 2015, she published Women's Views:  The Narrative Stereograph in Nineteenth-Century America with the University Press of New Hampshire (UPNE.com).    
Davis has held fellowships from the National Endowment for the Arts, The Henry Luce Foundation, the Pennsylvania Council of the Arts, MetroArts (PA), and she was a finalist in the National Poetry Series.  She holds a Ph.D. from the Graduate Center of the City University of New York and is an Associate Professor of Art History at the Sage College of Albany.