Distill
Silver, pitted with black, and long
The spoon hangs on our kitchen wall.
Unique wedding gift from my aunt
She picked from an abandoned still
Beside the stream where liquor flowed
Down a makeshift road thru screening
Woods and then to Troy, so they said,
Where sold, quenching its secret thirsts.
Pieces remained when we were boys
Rusting metal, coiled tubing
Entombed in leaves. No fire. No steam.
Road grown in. The woods still, save for
Running water as the stream wound
Its way towards the reservoir to
Wet lips that moonshine never touched.
---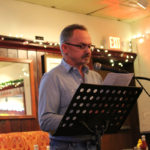 Tom Riley is a retiree living on 12 acres in Pittstown. There he gardens, bakes, makes maple syrup, grows hops, and cooks mouth-watering pizzas in a wood-fired oven. He is currently constructing poems which explore 60 years of living on the same rural road.